A test for prostate cancer, in which a finger-sized sonographic probe is placed in the rectum, the prostate is examined and then a needle is passed through the sonographic probe or sometimes through a finger guide, and multiple small pieces of prostate are removed for microscopic evaluation. While most commonly done without anesthesia, some patients may request sedation.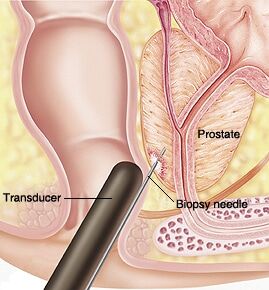 Prostate Biopsy and Drug Therapy
Prior to a prostate biopsy, you should make sure that your urologist is informed of all medications that you are normally taking on a daily basis. Patients who take such drugs as aspirin, warfarin, and any other "blood thinners," you are generally asked to stop taking such drugs for a period of time before the biopsy procedure, and should discuss the appropriate time to stop taking such drugs with your primary care physician or cardiologist as appropriate.
Ready to schedule a consultation?
Call (301) 477-2000 or fill out an Online Appointment Request Form to setup your initial consultation.